Not sure whether to engage a Home Tutor or go to a Tuition Centre for your Child? Here are the Pro's and Con's of both Tuition Centres and Home Tuition for you to consider before making your decision.
You will have to weigh the benefits and the detriments, to ensure you are providing your Child with the most effective academic help for the amount you are paying. (See: 12 Lessons from an A Levels Top Scorer)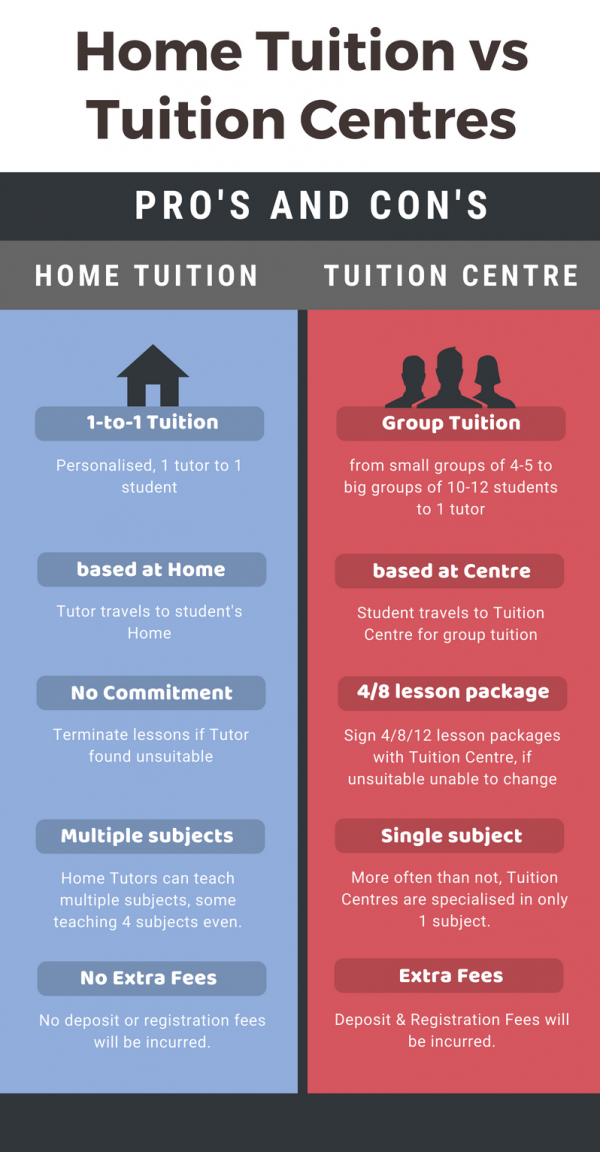 Comparison between Home Tuition and Tuition Centre:
1-to-1 Home Tuition vs Group Tuition
Home vs Tuition Centre
No Commitment vs 4/8 Lesson Packages
Multiple subjects vs Single subjects
No extra fees vs extra fees
1-to-1 Home Tuition vs Group Tuition
Academic help is more personalised in a 1-to-1 tuition setting as the Tutor will be focused on only one student. Any questions or struggles the student has they can directly ask the Tutor.
In a group setting, help rendered may be less personalised as the Tutor has to accommodate to all the queries of the students, so either the slowest person gets left out or the faster ones don't get to move on to the next topic.
Home Tuition vs at Tuition Centre
Depending on the environment the Student prefers, learning at Home may be more conducive for the student. It is more quiet, calm, have lesser distractions than at the Tuition Centre, whereby they have friends that might serve as distractions to them.
Also, the extra travelling costs incurred from travelling to the tuition centre and back home should be another consideration. As for Home Tuition the costs are borne by the Tutor instead. (See: Private Tutor salary, 2018)
No Commitment vs 4/8 Lesson Packages
There is no Commitment Period for home tuition – should you find your tutor unsuitable after the first lesson, you can request for a cancellation OR a change in Tutor.
However for tuition centres, most of them would only do 4/8 or 12 lesson (3 month) packages. This means that if you find the Tutor's teaching style unsuitable or if you would like to change a Tutor, you will be unable to do so as you would be sealed in the contract. Tuition Agencies on the other hand, allow for a change in Tutor – why continue if the tuition is not effective? (See: market tuition rates, 2019)
Multiple vs Single subjects
Tuition Centres mostly, if not all, specialise in teaching 1 subject ONLY; such as Chemistry, Economics. Should your Child require help in multiple subjects, either they will have to engage multiple tuition centres, or they can get 1 Home Tutor that is able to teach multiple subjects.
Engaging multiple tuition centres will render very specialised and focused help, but you will rack up a lot of Costs. Getting tuition from tuition centres usually cost a bomb – some up to $120/h for group tuition. Home Tutors are less specialised, may not go into too much depth, but they would be cheaper than tuition centres. (See: How to save money on Tutors)
No Extra Fees vs Extra Fees
Some tuition centres have deposit and registration fees that are not explicitly stated on their website. Only when signing the contract then you realise you need to pay extra charges on the registration and also put down a deposit (which will be forfeited if you decide to not continue).
Tuition Agencies however do not have any extra fees as the Commission is levied onto the Tutor and not the Parent. The Parent pays only the hourly rate and the hours completed accordingly.
Further Considerations to take into account:
Choice of Tutor: Students can choose from a

List of Tutor Profiles

which Tutor they would like to engage – comparing Tutor's Qualifications & Experience. Whereas for Tuition Centres, the teachers are fixed.
Flexibility of Schedule: Should the student suddenly have a stomachache, they can request the Tutor to push lessons back by 30 minutes. Home Tutors are flexible with the timeslot changes should their schedule permit.
However for tuition centres, timeslots are fixed and since it is group tuition, you would be unable to change the time.
Pace of lesson: for Tuition Centres since it is group tuition, either the slowest person gets left out or the faster ones don't get to move on to the next topic. Time is wasted on both ends unlike Home Tuition, whereby the student can move at his/her own speed.
Ultimately, it is up to each Student's needs and learning style/environment. There is no one fixed solution for everyone, so it would be best to try out all the different options and see which one is the most effective. (See: How to find the Perfect Tutor)
CocoTutors: Home Tuition Agency – carefully reviews, select and interview potential Tutors before accepting them to join CocoTutors as a Tutor. Usually, we also do request Tutors to provide feedback/recommendations from their past/current students, hence ensuring that Tutors from CocoTutors only uphold the high standards and are able to provide quality and effective tuition for your Child. Our Undergraduate Home Tutors start from $25-50/h, depending on Qualifications & Experience. Start with a Free Tutor Search now!
Find a Home Tutor near You now!
100% Free Service. No Commitment Period. 24/7 Unlimited Support.